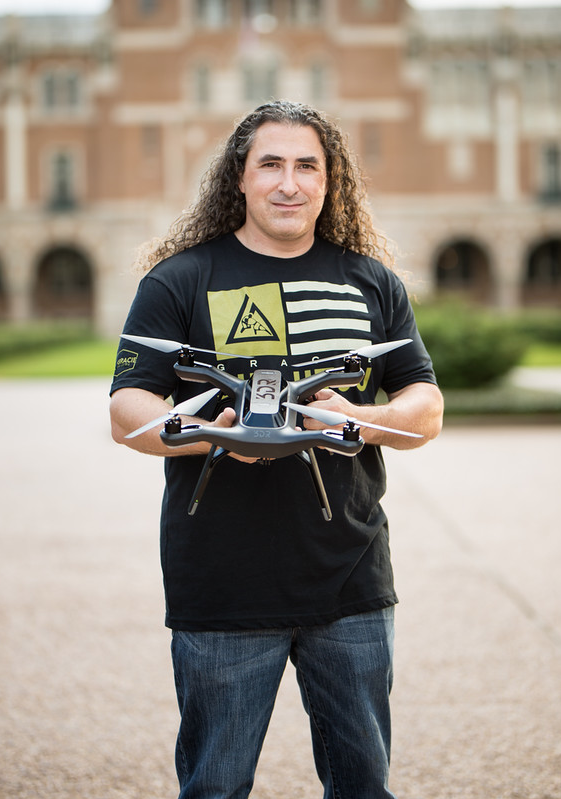 For his work in supporting K-12 STEM education outreach, rape-prevention and anti-bullying programs, and flood victim relief efforts, Cesare Wright (Kino-Eye Center President) received the 2016 Houston Humanitarian Award from Goodspire, Random Acts of Kindness Foundation (RAK), and the City of Houston.  Wright also recently won the Community Impact Award from the World Youth Foundation and the Outstanding Faculty Associate Award from Rice University.
Building on the success of the Rice Drone Camp that he co-developed with Shelea Majors (Education Director), Wright has led numerous STEM outreach projects for K-12 students over the past year, including a variety of education and leadership events for such organizations as Microsoft, BP, World Youth Foundation, 100 Black Men of Houston, and Houston ISD.
In 2010, Wright directed the national Gracie Women Empowered program with Rener and Ryron Gracie, which has recently been adopted as the Core Combatives training for women in the U.S. Air Force.  As the faculty sponsor of the Rice University Brazilian Jiu-Jitsu club, Wright has organized a group of world-class instructors, who will begin offering free rape-prevention, self-defense, and anti-bullying programs in the Houston area in Fall 2016.
During his acceptance speech at the 2016 RAK Day Houston Awards Gala, hosted by Isiah Carey (Fox 26 News), Wright emphasized the therapeutic nature of humanitarian work, explaining that,
"Sometimes, helping others is the best way to make it through the most difficult moments in our own lives.  When I was going through an extremely tough time, Rener [Gracie] gave me a positive focus by allowing me to help change the lives of countless women for the better. Nothing that I've accomplished since then would have been possible if not for that opportunity."
In recognition of his efforts in K-12 STEM education, Cesare Wright (Leadership & Outreach Specialist for the Rice Center for Engineering Leadership) was honored with the 2016 Houston Humanitarian Award.  Presented by Goodspire and the Random Acts of Kindness (RAK) Day Houston organization, and hosted Isiah Carey from Fox 26 News, the awards event showcases Houstonians who have provided exemplary service to the community.
"Many of the opportunities that I've had to impact the community owe directly to the strong and supportive leadership of RCEL and the School of Engineering," said Wright.  "From K-12 STEM education to anti-bullying and rape-prevention programs, Dean Ned Thomas and RCEL Executive Director Kaz Karwowski have consistently supported and encouraged me to find new ways to connect my outreach efforts to real world learning opportunities for Rice students."
In addition to running RCEL's annual Rice Drone Camp, Wright has also been an active community volunteer, hosting science programs and engineering challenges across the Houston Independent School District, leading STEM outreach events for the World Youth Foundation and Microsoft YouthSpark, and actively promoting STEM and Arts education initiatives more broadly.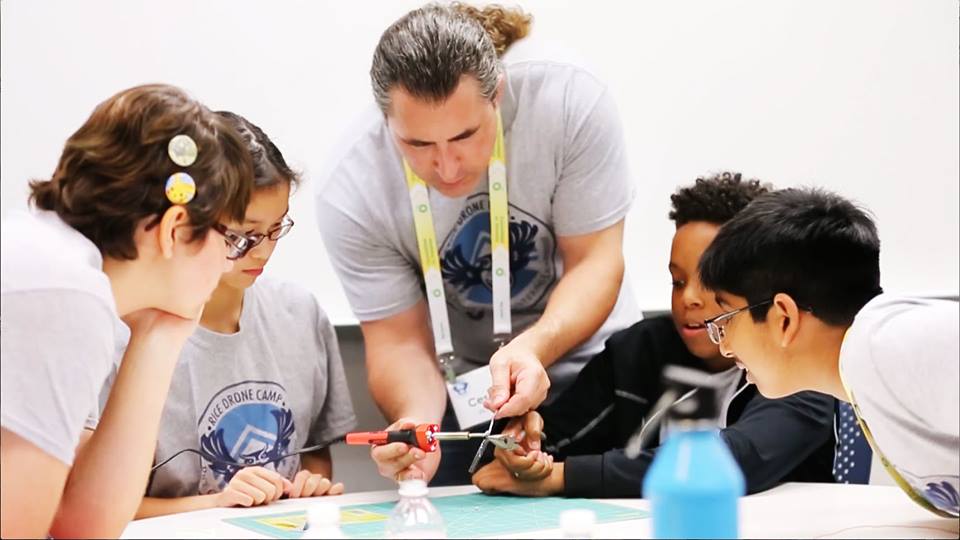 In addition, Wright recently worked with RCEL students to launch new Brazilian Jiu-Jitsu and Aerial Robotics clubs on campus, both of which will further support community outreach.  During the Spring 2016 semester, the Brazilian Jiu-jitsu club hosted its first self-defense and rape prevention seminar for Rice undergraduate women.
While honored to be recognized for those efforts, Wright says his main goal is to continue that level of outreach and empowerment.
"The Rice Brazilian Jiu-Jitsu Club will host a series of free self-defense events for Rice students, faculty, and staff, based on the national Women Empowered program that I directed," he said.  "The Rice Aerial Robotics Club, which was also created by RCEL students, has partnered extensively with HISD schools and is now working with the Texas Children's Hospital to plan exciting STEM workshops for kids who are hospitalized with serious illnesses.  None of these endeavors would be possible without the support of leaders who understand that we are not just training engineers; we are setting an example for a generation of brilliant minds who will shape our society for the better."
– Holly Beretto, Engineering Communications