Drone technology has taken the world by storm – figuratively and literally!
The popularity of this new technology invites exciting learning opportunities, but also raises the question of how educators may tap into the popularity of drones as a means of generating strong student engagement and promoting STEM learning in and beyond the classroom.
In Aug. 2015, the Rice Center for Engineering Leadership partnered with the Kino-Eye Center and Trumbull Unmanned to host the inaugural Rice Drone Camp – a free 3-day summer camp program for 6th-9th grade students. The Kino-Eye Center developed the curriculum for the program and facilitated on-site implementation.  Based on the amazingly positive reception of the initial Rice Drone Camp, we expanded the program to a 5-day experience for 25 kids for 2016.
---
Media Coverage of Rice Drone Camp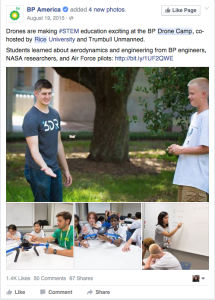 Over the past two years, the camp has made a profound impact on students, garnering nationwide media attention from sources including Fox News, BP, Drone 360 Magazine, WB39, Oil & Gas Journal, Style Magazine, Fortune Magazine, and a host of print and online publications.
VIDEO – Rice University – "Flying toward the future!"
VIDEO – BP – "Rice Drone Camp: Are these the drone's you're looking for?"
VIDEO – CW39 – "Rice Drone Camp lets kid's imaginations soar!"
---
About the Rice Drone Camp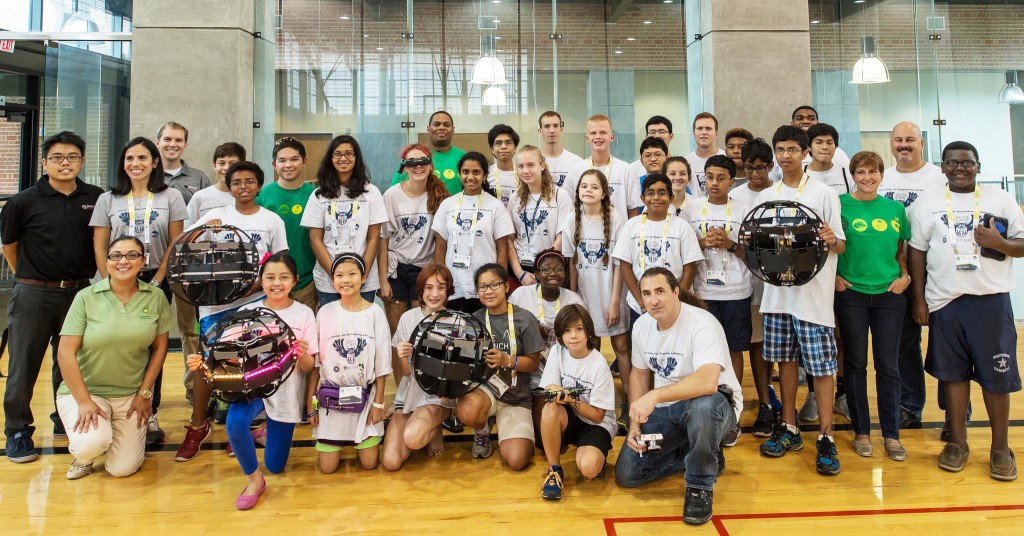 During the Rice Drone Camp, students explore the engineering and science of drones and UAV systems, while also examining the social and cultural implications of emergent technologies.  For the 2016 camp, we also added a focus on leadership and teamwork, as well as field trips to the Microsoft Technology Center and the Houston Zoo.
Shelea Majors (Kino-Eye Center Education Director and Houston ISD Media Specialist) and Dr. Cesare Wright (RCEL Lecturer and Leadership Specialist) designed the camp curriculum to provide a rigorous, project-based learning experience that aligns with Texas Essential Knowledge and Skills (TEKS), as well as district and federal education standards. Dyan Gibbens (President of TrumbullUnmanned and former Air Force pilot) co-develops and teaches many of the camp sessions.  Senior engineers from BP and Microsoft also provide industry insights through panel discussions and learning exercises.
Through sessions with Rice University faculty, professional engineers, Air Force pilots, and content experts, students explore such topics as sensor design, aerodynamics, GPS & control systems, and technical troubleshooting. Role‐playing exercises allow students to examine the ethical and practical dimensions of various societal, industrial, and military uses of drones.
Strong external partnerships are essential to the success of the camp.  Organizations including, including Microsoft, BP, and Trumbull Unmanned provide both financial sponsorship and invaluable professional expertise, enabling us to provide the highest quality instruction, while offering FREE enrollment to all accepted students.
In addition to technical sessions, representatives from such companies as TrumbullUnmanned, Drone Detector, 3DR, and Urban Cowboys demonstrate best practices in drone operation and safety.  During "free fly time," students gain hands‐on practice piloting smaller drones.
The camp culminates in a team-based design and pitch project, during which students divide into small groups to conceptualize, troubleshoot, and develop a drone related project, which they ultimately pitch in a "Shark Tank" style presentation to a panel of interdisciplinary experts, educators, policymakers, and Rice faculty.
---
Diversity and Inclusion Data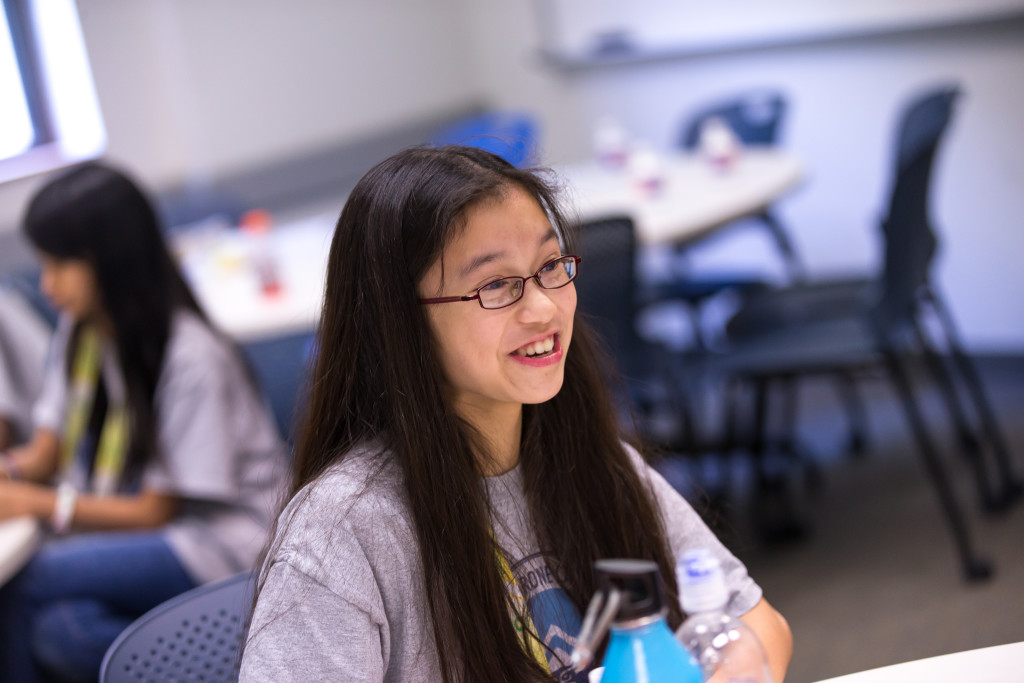 In terms of demographic composition, the 2016 Rice Drone Camp was exceptionally diverse, with a student population consisting of 16% Hispanic, 16% Black, 16% White, 20% Asian, and 20% Indian, 8% Middle-Eastern, and 4% other.  Similarly, the Rice Drone Camp includes nearly 50% female students – an impressive statistic when compared to the reality that girls only make up 13% of those students who self-select into robotics programs nationally, and women account for less than 18% of engineering degrees awarded in the U.S. annually.
The Rice Drone Camp achieved these strong diversity numbers through a highly competitive double-blind application process that DOES NOT include any information pertaining to race, gender, ethnicity, etc.
---
Rice Drone Camp Overview for Educators
As a vehicle for STEM learning, drone technology might well be described as the "chemistry set" of the modern era – allowing students and DIY practitioners an unparalleled opportunity to experiment with a variety of 'maker' technologies, including 3D printing and computer programming.
The Rice Drone Camp curriculum expands on the DIY learning potential of drone technology by providing a guided educational experience that integrates project-based learning, traditional lectures, practical demonstrations, role-playing exercises, and hands-on application of skills.
In April, 2016, Microsoft invited Shelea Majors and Dr. Cesare Wright to present a series of professional development sessions for teachers and administrators, as part of the MS YouthSpark initiative.  Building upon the case study of the Rice Drone Camp, the in-service training prepares K-12 teachers to envision, develop, and implement project-based learning experiences for students in traditional classroom settings.
Of significant note for educators is the extent to which the Rice Drone Camp supports conventional classroom learning.   Drawing on over 20 years of experience in K-12 education and the non-profit Arts & STEM sector, Shelea Majors implemented a comprehensive curriculum alignment, by which all of the Rice Drone Camp curriculum was expressly aligned with state, federal, and district standards and TEKS.
For instance, Day One of the 5-day camp curriculum connects with 42 distinct TEKS in Math, ELA, Science & Technology, Social Studies, Physical Science, and Applied Language. Perhaps more importantly, the culminative experience of the Rice Drone Camp provides an iterative project-based exposure to authentic practice in the interdisciplinary application of learned skills.
In addition to our outreach programming for students, the Kino-Eye Center is currently collaborating with Microsoft, Houston ISD, and other education partners to launch a complete series of professional development workshops for K-12 teachers and administrators.
Participating campuses in Houston ISD will receive guided professional development training in STEM education, project-based learning, educational leadership, sponsorship/fundraising, interdisciplinary curriculum development, and other key topics, which will culminate in a campus-based summer program led by faculty and administrators at each partner school.
Kino-Eye Center and Trumbull Unmmanned representatives are also available to participate in select K-12 STEM events in the Houston area.  For more information on the professional development series, please feel free to contact Dr. Cesare Wright, Kino-Eye Center President.