Romulo Reis Pereira is a Gracie Brazilian Jiu-Jitsu 3rd Degree Black Belt, international competition champion, and lead instructor at the Rilion Gracie Academy in Houston, TX.

As a martial arts instructor, Romulo works with students from all walks of life, but his efforts are not limited to the jiu-jitsu mats. He is dedicated to improving lives and helping people achieve their personal goals and aspirations.
In coordination with the Kino-Eye Center, instructors from the Rilion Gracie Academy participated as Guest Readers for the Houston ISD "Jump Start Read Day" at Valley West Elementary School.  Along with instructors Jackson Fortunato, Drew Lockwood, and Christopher DaSilva, Romulo visited the school to read to Kindergarten students and provide a free demonstration of techniques to help children resist kidnapping.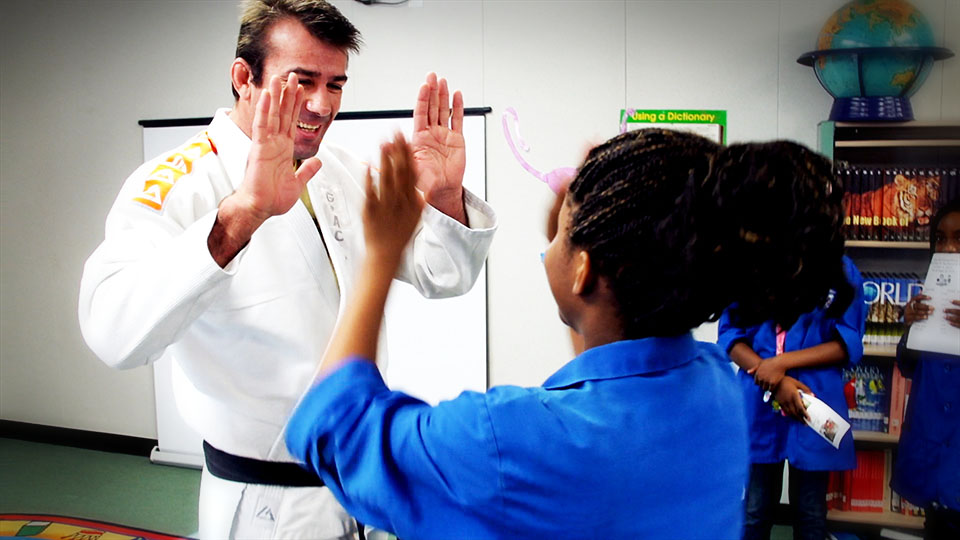 Romulo moved to the U.S. from Brazil only three years ago, but has quickly established himself as an active member of the community.  As a second-language learner, he serves as an excellent role model for students in the Houston Independent School District, which has a high population of immigrant and ESL/bilingual students.
Currently, Romulo is working to develop anti-bullying and safety programming for public school students, and he offers regular courses and seminars to provide rape-prevention and self-defense training for women in the Houston area.
In this clip from the student led morning news broadcast at Valley West Elementary School, Romulo and the Rilion Gracie Academy crew read to students and demonstrate Brazilian jiu-jitsu at "Jump Start Read Day":