Kino-Eye Center hosts a special screening of Kumaré at the Rice University Media Center.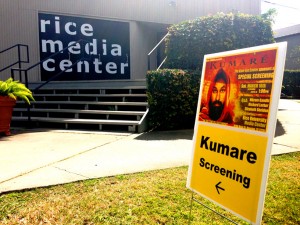 After screening at the International Documentary Film Festival Amsterdam (IDFA) and winning the Audience Documentary Prize at South by Southwest in 2012, Kumaré was theatrically released by Kino Lorber Inc. Following the screening, we were joined by Kino Lorber CEO Richard Lorber and VP Elizabeth Sheldon for a compelling Q&A session.  Students, faculty, and members of the community had the opportunity to ask questions about Kumaré, the film industry, media distribution/exhibition, and a variety of other compelling topics.
Kumaré is now available for purchase and on Netflix.  If you were unable to attend the screening, we strongly encourage you to watch this amazingly cinematic documentary!  See below for a synopsis and info on the film.
Synopsis
A provocative social experiment-turned-documentary, KUMARE follows American filmmaker Vikram Gandhi as he transforms himself into a wise Indian guru, hoping to prove the absurdity of blind faith. Instead, he finds himself forging profound connections with people from all walks of life and wondering if and when to reveal his true self. Will his followers accept his final teaching? Can this illusion reveal a greater spiritual truth? Winner of South by Southwest's Audience Award, KUMARE is an insightful look at faith and belief.
http://www.kinolorber.com/press-detail.php?id=1273